Company History and Philosophy
Damage Appraisers of North America (DANA), once Michigan Damage Appraisers, was founded in 1985, and is a division of LMC Insurance Services, INC. The company was started by Tony and Valerie Serio with a Polaroid camera, pens, crash books , and a fax machine. They handled 20 claims a week in the Detroit, Michigan area. At the time, Tony was a licensed adjuster and would handle the entire claim. DANA is well versed in knowing what a company looks for on an assignment.

The company pioneered the flat rate appraisal service with no mileage fee. We became the only damage appraisal company with a central collection and review facility at that time. We were also the first company in Michigan to utilize employed damage appraisers versus the use of contractors. The company's emphasis on communication, proper documentation, use of technology, experience and superior service has created outstanding growth for the company.

That growth lead to the incorporation of LMC Insurance Services in 1994. Several divisions were created to handle the unique needs of our clients that included:
Michigan Automobile Damage Appraisers
Great Lakes Marine and Equipment Adjusters
National Repair Audit Bureau
Detroit Property Adjusters
Claims Management Reinspectors
and Underwriters Appraisal Service
Today, Damage Appraisers of North America has combined the experience, service commitment, resources and fee philosophy into one powerful physical damage appraisal service to meet all your needs.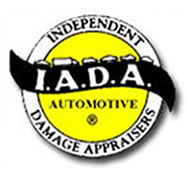 DANA is a proud member of the IADA!
The IADA is a leader in the insurance/automotive industry in providing not only it's members, but the entire industry, a forum for exchange of ideas and solutions to common problems in automotive appraisal and repair.
Through national and regional education seminars and the distribution of technical information, IADA members receive the diversity of training needed for appraisers to stay in the vanguard of this complex industry.
Click here to learn more about the IADA.